It's landing in that pocket on a perfect hip. Locking in to a rail so solid you don't need to readjust even a nose hair. A slowly rotating frontside 3 right to the sweet spot. The Slash Happy Place Snowboard will take you there. A true twin freestyle board, with a mellow flex pattern and lightweight core, this is a park board anyone can enjoy. With a CamRock profile and plenty of pop, it's got enough stability to stomp landings no matter which direction you happen to be riding. Put on your headphones, crank whatever music gets you going (Martian trance), and find that happy place.
Rocker Type
CamRock – CamRock features a loaded camber section between the feet with a small flat section underfoot and rockered tips. The camber section maintains stability between the feet, while the flat areas underfoot let you load up ollies and the rockered tips offer forgiveness. This creates a very playful, easy turning board.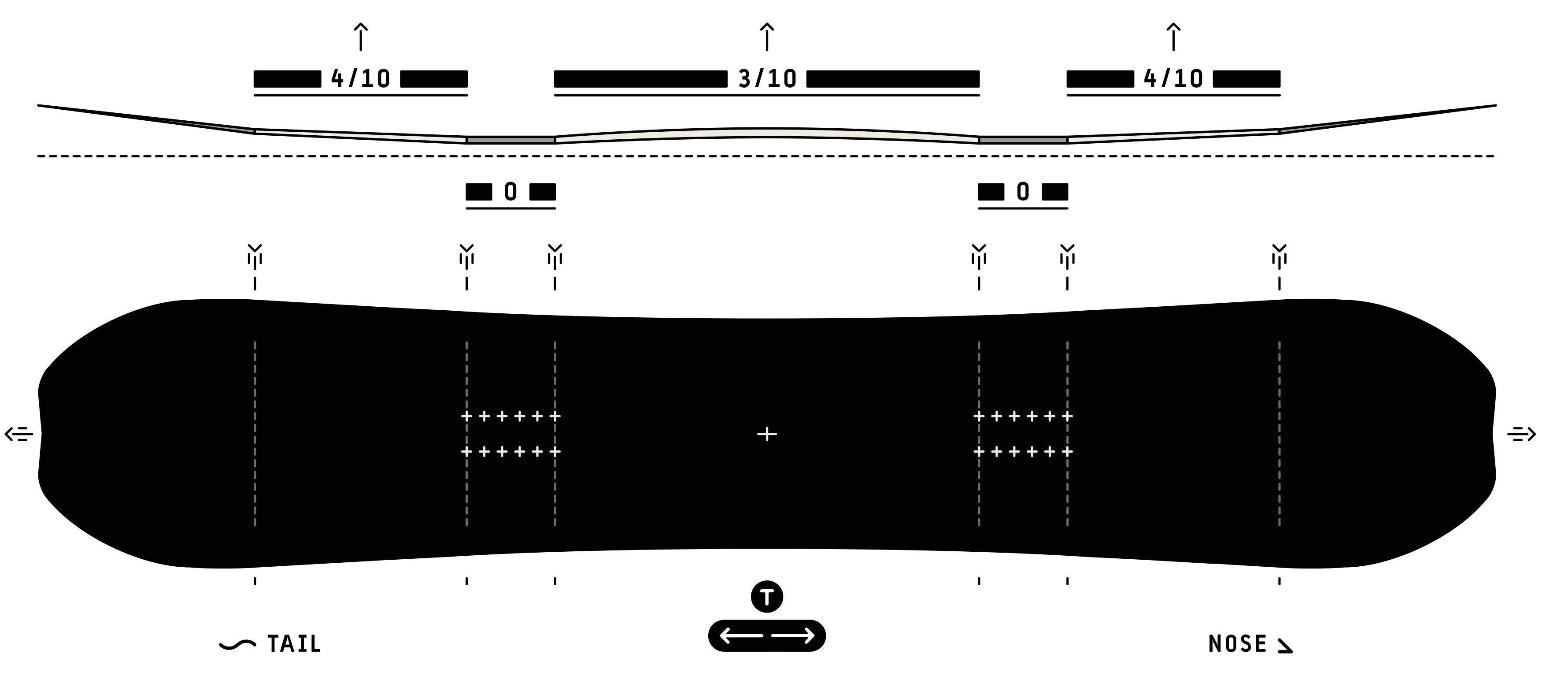 Shape
Twin/ Progressive Sidecut – A progressive sidecut design blends many radii and smooth contact points for buttery smooth turn initiation, edge-to-edge transition and edge hold. It's different for each model and matches the sidecut to the board's specific camber profile.
Ultimate Traction – This small counter radius (bump) placed in the middle of the board's sidecut improves edge hold without creating drag or strange edge grip. It adds extra bite on ice and turns regular turns into confident carves.
Core
Pop Woodcore – Built with poplar and bolstered with beech and spruce stringers. Beech hardwood strips are laid through the inserts from tip to tail for power transfer and a sturdy frame. The spruce from tip to tail just outside the inserts adds increased pop and precision.
Sweet Spot – Two carbon fiber stringers stretching outward from the inserts to the contact points in both the tip and the tail. Like prongs sticking outward these additives feel out rough terrain, promote pop, generate stronger edge hold and create a more playful ride.
Laminates
Bi-Ax Fiberglass – Bi-ax Fiberglass is a two-way weave of fiberglass with strands running every 90-degrees. It's more forgiving, easier to flex and highly versatile for all terrain types.
Tri-Ax Fiberglass – A three-way weave of fiberglass with strands running at 45-degree angles. It provides superior pop, consistent torsional flex, and more overall response.
Base
Sintered Base 7000 – This sintered base is fast, durable and requires less waxing. Slash believes in using the best possible materials and refrain from using cheaper, low-density extruded material our boards.