Floats like a boat carves like a dream, catches so much air you´re guaranteed to scream. Pow days & sunny groomer days – the Squash board specializes in all sorts of conditions by prioritizing float through pow and offering a perfect blend of a Progressive Sidecut and Trüe Camber so you can lay into carves like you do it for a living. This Tapered Swallowtail Shapedpowerhouse will allow you to charge with finesse through the choppiest conditions, while the Sintered Speed Formula HD Base will allow you to get out of the flats with ease. If you are looking for a snowboard to have fun on during the deepest of days and the regular days – Squash it!
TRÜE Camber – Good old standard camber provides the stability and pop many shredders can't live without.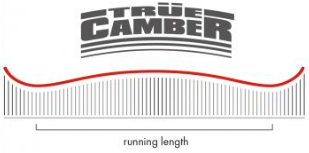 Flex
Flex Rating – 7 (1 Soft - 10 Stiff)
Shape
Progressive Sidecut – A larger radius in the front blends into a tighter radius towards the tail. The progressive sidecut makes accelerating out of turns a breeze, while maintaining a catch-free nose area.
Core
Power Core II – A tip-to-tail poplar wood core with beech wood stringers offers unrivaled strength, smooth response, and insane snap.
Laminates
Bi-Lite Laminates – Nitro's rider-trusted Bi-Lite Laminates are engineered for a powerful riding style and a refined board-feel.
Base
Sintered Speed Formula HD Base – Nitro utilizes a new base material compound to achieve higher abrasion resistance, increased wax absorption, and higher on-snow speeds.