Building upon the popular NFX, Dragon continues to up the ante with the Dragon NFX2 Goggles. A slightly smaller profile better accommodates a variety of face shapes/sizes while the all-new Swiftlock Technology makes swapping lenses easier than ever - simply flip a lever and pop out the old, click in the new, and you're ready to roll. The patented frameless technology, paired with the optically correct cylindrical lenses provides the best peripheral vision in the game, it's like you're not even wearing goggles! With 2 lens options straight out of the box, you'll kick yourself for ever hesitating to pull the trigger.
Frame
Swiftlock Lens Change System – Swiftlock Lens Technology enables riders to change lenses instantly, providing a faster, easier, and more secure way to adapt instantly to changing light conditions. The easy on-and-off mechanism uses a pair of small, locking levers integrated into the goggle frame. Simply flip the levers up to release the lens, pop in the new one, and with one quick motion, lock it down.
Lens
100% UV Protection – Blocks 100% of harmful UV radiation. Long-term exposure to UV rays can damage the eye's surface as well as its internal structures. Stay protected!
Ventilation
Armored Venting – Integrated armored venting makes clearing snow packed vents a snap. With improved attachment points for a secure fit, this system is ready for any and all conditions.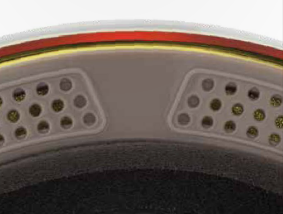 Unidirectional Airflow System – Provides superior airflow to prevent fogging.