These are the boots T.Rice wears. Boom. Done. DC Travis Rice Boa Snowboard Boots have been designed to stay comfortable in the least comfortable conditions, be light when the going gets heavy, and pretty much just live up to the demands of the planet's most demanding snowboarder. Again: these are the boots T.Rice wears. Go forth and do something irrational!
Liner
Black SE Liner – Pro performance Aerotech Ventilation™ regulates moisture and temperature in the multi-layer construction of this liner that combine EVA memory foam and a high rebound heat-moldable EVA, delivering an unrivaled custom fit. Lateral support beams and a 360° power strap provide all-season support. Anatomical latex J-bars offer superior heel hold.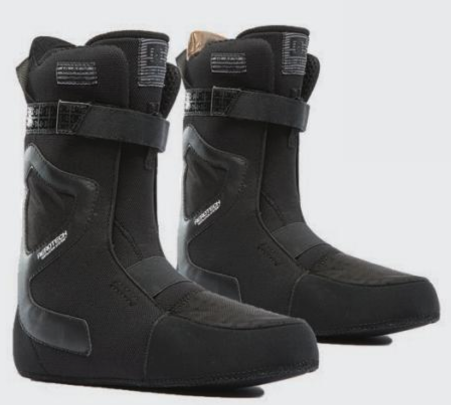 Lacing System
Boa Focus Closure System with H3 Coiler Reel – The unbeatable H3 coiler platform is fast and easy, offering micro-adjustability for dialing in the perfect balance of flex and support.
Footbed
Sole re-Purpose Insole – Comprised of 100% recycled EVA and paired with a TPU molded arch support, this insole gives the stability you need while enhancing your balance in the most demanding conditions.
Sole
Asymmetrical ANTI DRAG Outsole – From the visionary mind of Travis Rice comes DC's most advanced outsole featuring a unique asymmetrical design. This outsole is engineered to reduce toe and heel drag - crucial for catch-free descents in steep terrain and reducing the boot's overall footprint. Features a blend of durable rubber and Unilite™.