From the legend himself comes the signature Chris Benchetler Dakine Team Baron Trigger Mittens. Don't think twice about riding all day thanks to a GORE-TEX® membrane matched with PrimaLoft® -230g insulation. Not to mention your hands will be looking the most stylish on the hill thanks to Chris's unique touch at the back of hand.
Shell Material
Poly with DWR Treatment / Durable Water Repellent Leather
Membrane
GORE-TEX Waterproof/Breathable Membrane + Gore Grip – These gloves offer the feel of direct grip and high tactility. The innovative combination of these characteristics has been made possible by a special layered construction which attaches the normally loose layers of the glove to each other, preventing movement between them. They thus provide optimum tactility and better dexterity for a sure grip. This makes it easier to handle your ski poles, zippers, goggles, bags, etc.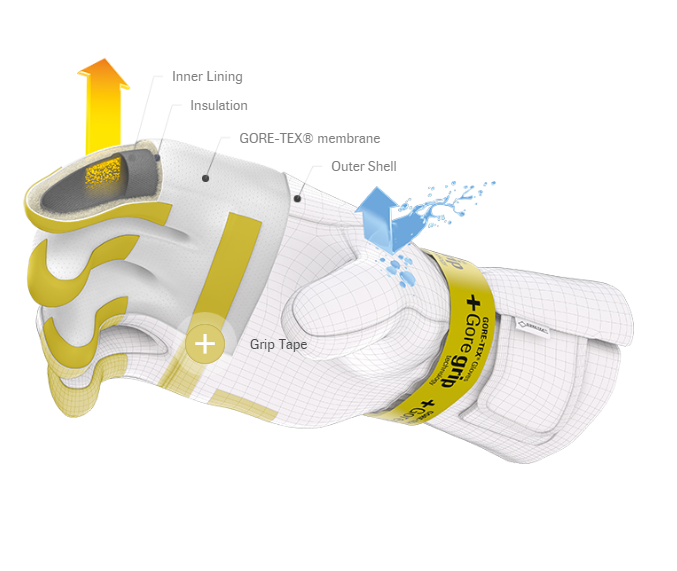 Insulation
PrimaLoft® [230g] – PrimaLoft® insulation offers superior performance for high quality cold-weather gloves. PrimaLoft® is lightweight, breathable and is proven to repel water better than any other synthetic or natural insulation, so you remain dry, warm and comfortable even under the most extreme conditions.
Lining
360g Wool
Palm
Durable Water Repellent Leather – A unique tanning process infuses the leather with a waterproofing agent and compound dye yielding a premium leather for the ultimate in comfort and durability.
Features
Removable Elastic Wrist Leash
Temperature Range
Warmth Index: 4 – Gloves and mitts are rated from 1 - 5 based on the amount of insulation and lining materials. Styles with a warmth rating of 1 are designed for warmer weather conditions or riders who require less insulation. At the other end of the spectrum, gloves or mitts with a rating of 5 are the warmest styles for the harshest conditions, and for those who need maximum warmth.