Chris Benchetler is known as a master of style on a variety on canvases. From his iconic artwork to his smooth, creative powder lines, the man knows how to make things look good. Its no surprise then, that his signature gloves are a masterclass of form and function. The tech is all that you'd expect from a pro-level mitt: GORE-TEX membrane, PrimaLoft Gold Insulation, wool blend liner. The works. Add in a slim ergonomic silhouette, a slick color palate, and some rad topo-esque detail? The Dakine Team Baron GORE-TEX Mittens are where it's at.
Shell Material
81% Goat Leather / 19% Polyester with DWR Finish
Membrane
GORE-TEX Waterproof/Breathable Membrane + Gore Grip – GORE-TEX waterproof/breathable insert, inner lining and shell material are all bonded together with high strength adhesive tape in key areas for a no-slip build. The result is a close-fitting, single layer feel that provides optimum tactility and dexterity for a sure grip.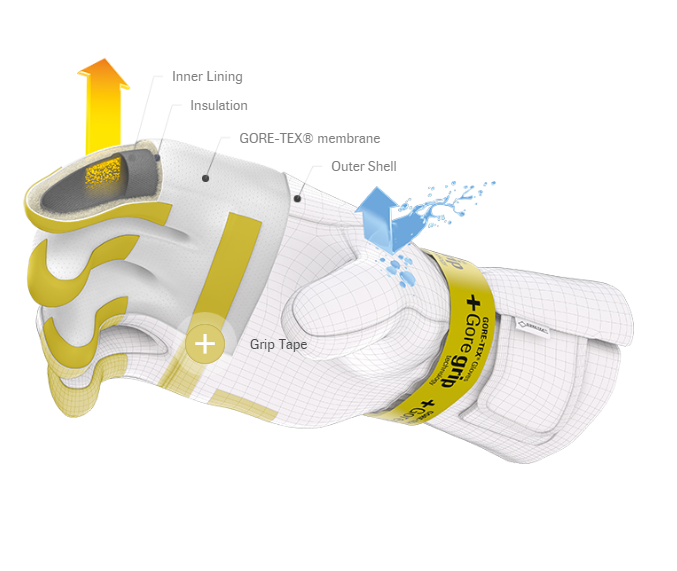 Insulation
PrimaLoft® Gold [230g] – Ultra-fine microfiber insulation with 55% post-consumer recycled content designed to provide the highest level of combined warmth, water resistance, softness and compressibility.
Lining
360g Wool Blend – 64% Wool / 20% Polyester / 16% Nylon
Palm
100% Goat Leather with DWR Finish – A unique tanning process infuses the leather with a waterproofing agent and compound dye yielding a superior leather for the ultimate in comfort and durability.
Fit
Cuff Closure – Slip On Stretch to Fit