With freestyle styling and multi-season certification, the Anon Greta Helmet is a true do-it-all brain bucket for charging chicas! The Classic Fleece liner and ear pads promise to keep you cozy during the winter months, but can be quickly and easily removed for the spring shredding or even mid-summer bike rides. Stay safe without sacrificing style -- grab the Greta and never forget her!
Construction
Endura-Shell ABS Construction – Endura-shell two-piece construction features an injection-molded ABS exterior for long-lasting durability and ding-resistant strength. Built for season after season of knock-around wear and tear, this is the pinnacle in reliable protection.
Ventilation
Passive Ventilation – Passive ventilation channels integrated into the helmet draw fresh air in the front and pull moisture out the back. These built-in channels help to keep goggles clear and aid in maintaining a balanced and comfortable climate all day long.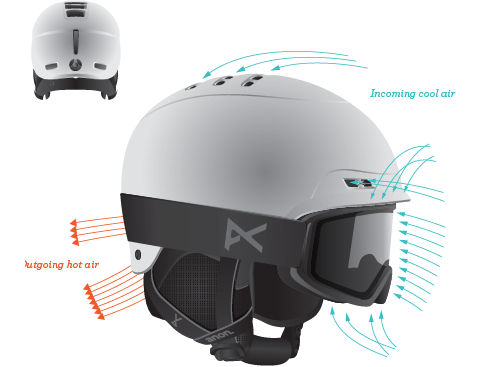 Adjustability
Simple Fit – Easily removable ear pads and liners define Simple Fit featured in all anon helmets, making every model easily convertible for riders who want to run a beanie and goggle under their lid.