The Anon M4 Cylindrical MFI Goggles offer the most precise helmet to goggle fit with the maximum allowable field of vision. Featuring SONAR by ZEISS clarity and powerful magnetic lens retention with super easy versatility to switch between lenses. Also included is the Magnetic Facemask Integration (MFI®) that seals the included Anon MFI facemask to the goggle in a snap. The ultimate goggle for the ultimate shredder.
Frame
Wall-to-Wall Vision – High-performance riding demands the best possible field of vision. Wall-to-Wall incorporates optimal optics, low-profile frames and 40% thinner face foam, producing an ultra-close fit that eliminates the peripheral vision impairments of typical goggle construction. The result is a truly unobstructed viewing experience.
Lens
anon. Cylindrical Lens Technology – Cylindrical lens construction utilizes de-centered injection technology, which tapers to a thinner profile on the edges for reduced peripheral distortion.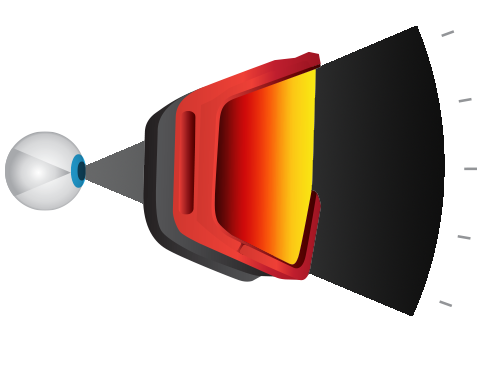 Magna-Tech™ Quick Lens Change Technology – The cat's pajamas of lens change systems, M1 Magna-Tech uses 14 rare-earth magnets at seven magnetic connection points around the perimeter of the frame that when fully bonded with self-aligning engagement, the combined retention can hold 16.5 pounds. Solid.
Integral Clarity Technology (ICT) – Anon's ICT anti-fog treatment delivers crystal clear vision, no matter what the elements throw at you. Starting with a porous cellulose inner lens surface for superior water shedding above and beyond standard acetate lenses, Anon applies its chemically etched ICT anti-fog treatment for long-lasting clarity. ICT works in tandem with Full Perimeter Channel Venting to tell moisture to go fog itself.

Sonar Lens by ZEISS (Select Colorways Only) – Exclusively developed for snow sports, Anon's Sonar lens by ZEISS enhances contrast for the best possible definition and terrain recognition.
Ventilation
Full Perimeter Channel Venting – Anon's Full Perimeter Channel Venting ensures maximum airflow, bringing fresh air into the goggle while pulling moisture away from the lens. Full Perimeter Channel Venting works in tandem with ICT to provide clear, fog-free vision in all conditions.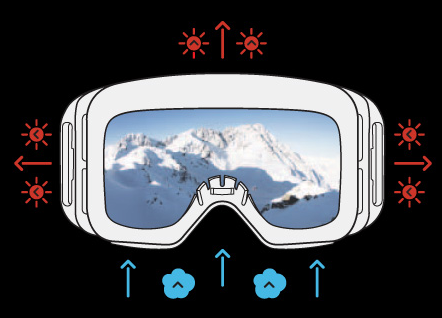 Strap
No-Slip Silicone Strap – Adjust it once, and leave it alone. Anon's no-slip silicone strap keeps goggles in place so riders can focus on what's ahead, not behind.
Face Foam
Triple Layer Face Foam – Triple layer face foams utilize a moisture wicking fleece that provides a perfect goggle-to-face fit, sealing out the elements while providing hours of riding comfort.
Features
MFI® Technology – anon's patent pending MFI (Magnetic Facemask Integration) technology is the perfect solution for protecting your face and keeping your goggles fog-free.