The Vans Hi-Standard is the best-selling Vans boot of all time and has set the literal standard for classic style and modern performance. It is one of the Vans team's favorites and offers the fit and flex that the Vans pros need when gunning for Olympic gold. Uncompromising on an easy lace-up construction that has no interest in cutting corners, this boot brings the promise of its name to the feet of every snowboarder who rides it. The Hi-Standard has been in the line for over 15 years, doesn't show any signs of slowing down, and instead cements the value of experience and reliability. Add to that iconic Vans heritage design that brings vibrant, youthful colors to the season in a boot that has done it all since its debut and continues on.
FLEX
3 (1 Soft - 10 Stiff) –  Soft-mid flex tuned for park riding and those looking to simply progress their skills.
FIT
Internal Web Harness –  Vans sets the standard in every boot with versatile harness options. The Internal Web Harness is where it all begins.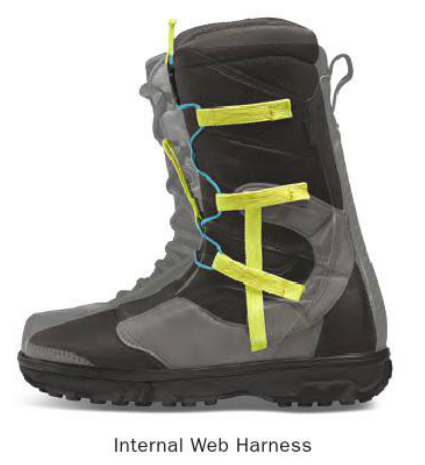 LINER
Flex Liner –  For the rider who likes a little flex in their liner but can do without break-in delay. The Flex Liner needs nothing added to Vans' instantly perfect fit that rides on 50 years of footwear knowledge. 
Dual-Density Heat Moldable Core
Closed Seam Brushed Fleece Cuff
UltraCush™ Lite Interior Cushioning Layer
FOOTBED
V2 Footbed –  Vans snowboard boots are grounded by Vans' premium footbeds, developed in-house with precise attention to detail. With uncompromising effectiveness in mechanical support and dampening, the V2 footbed is the foundation for ultimate and seamless riding comfort. 
Dual-Density UltraCush™ Lite Construction –  With forefoot and heel impact-relief pads.
SOLE
Reverse Waffle Sole –  A Vans outsole means Vans grip, and the Reverse Waffle outsole has plenty. Bringing half a century of footwear experience to bear, this durable shred foundation fights fatigue, absorbs impact, and optimizes feel and control.
One-Piece Rubber Cupsole –  For minimum footprint and maximum boardfeel. 
Vans' Special Recipe Rubber Compound –  For all-terrain traction. 
Oversized Inverted Waffle Tread Pattern –  For increased traction and optimum snow release. 
ADDITIONAL FEATURES
Heat Retention –  To keep the warmth in and the cold out, all Vans boots come equipped with a thermal heat retention layer between the outsole and the liner. This layer reflects cold away from the foot and helps hold heat within the boot, keeping you nice and toasty.