The Slash Brainstorm Snowboard is an all-mountain charger. Made for the snowboarding you do: not confined to just groomers, the park, or even inbounds. It's a directional twin with Slash Backseat Camrock profile and a medium flex, designed to annihilate any terrain. A slight setback works with the rocker up front to keep you from going OTB in the deep stuff, so you can keep your eyes peeled for the next lump to blast off. Positive camber takes over between your feet, keeping you locked in as you carve towards wall hits without a hint of chatter. There's no need for a discussion session, it's time to rip with the Brainstorm!
Rocker Type
Backseat Camrock – The Backseat CamRock design places rocker in the nose and a slight amount in the tail with positive camber in between. This setback design delivers camber stability and control between the feet and in the tail, with the added float and maneuverability of the rockered nose.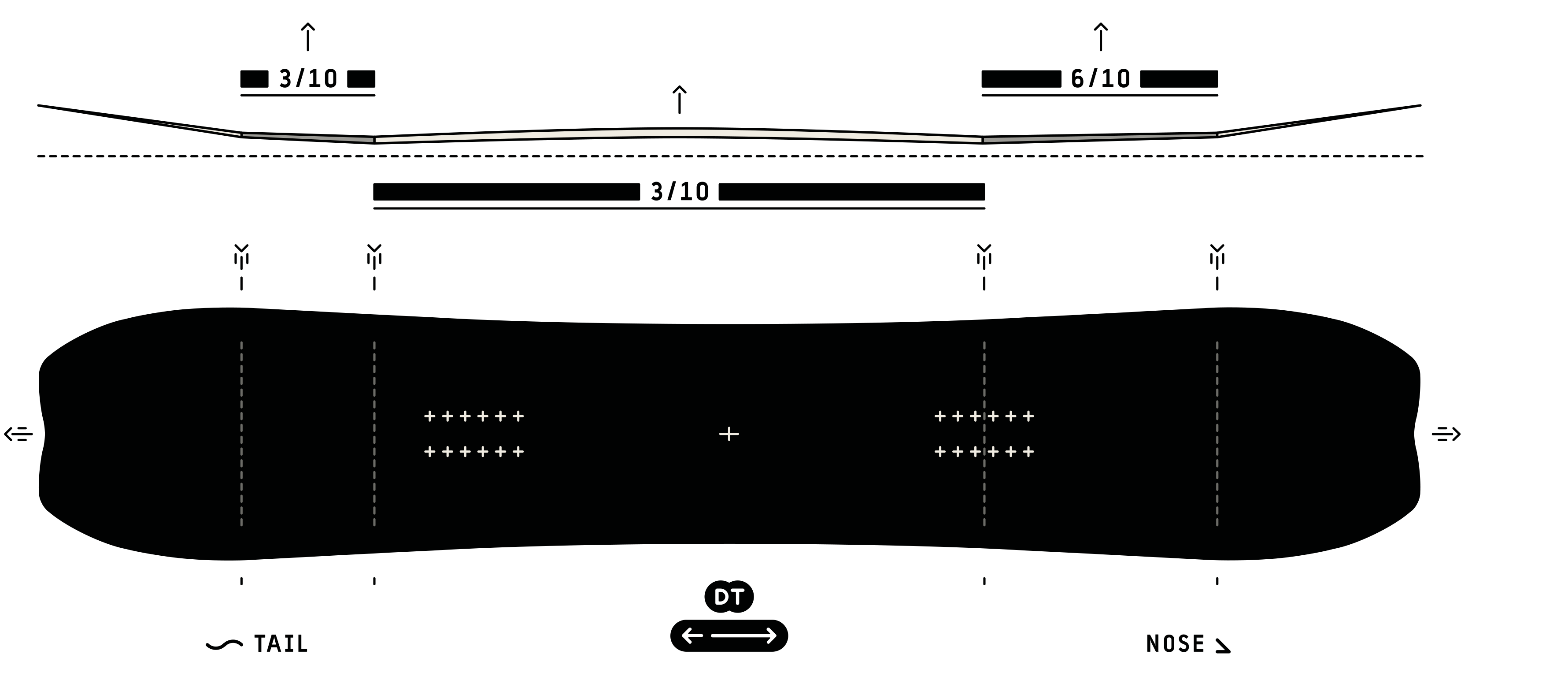 Shape
Progressive Sidecut – A progressive sidecut design blends many radii and smooth contact points for buttery smooth turn initiation, edge-to-edge transition and edge hold. It's different for each model and matches the sidecut to the board's specific camber profile.
Core
Forever Woodcore – Constructed from four different lightweight wood species—paulownia, spruce, beech and poplar—for a premium core that offers a highly tuned and dynamic feel. It's flyweight, durable, filled with pop and highly reactive.
Laminates
Tri-Ax Fiberglass – A three-way weave of fiberglass with strands running at 45-degree angles. It provides superior pop, consistent torsional flex, and more overall response.
Bi-Ax Fiberglass – Bi-ax Fiberglass is a two-way weave of fiberglass with strands running every 90-degrees. It's more forgiving, easier to flex and highly versatile for all terrain types.
Base
Sintered Base – Fast, durable and requires less waxing.
Edges
Ultimate Traction – This small counter radius (bump) placed in the middle of the board's sidecut improves edge hold without creating drag or strange edge grip. It adds extra bite on ice and turns regular turns into confident carves.