The Rome Royal Snowboard gives you a little bit of everything so you can ride anything. Flat camber underfoot gives quick turn initiation for darting through trees, while a medium flex and QuickRip Sidecut make sure you can grab an edge on the groomers. Treat yourself like a queen this season with the Rome Royal Snowboard.
ROCKER TYPE
FreePop Rocker – Flat camber in the mid-section of the boards meets up with rocker in the nose and tail to create a super versatile feel and response. The flat camber zone gives stability and directional response, while the rockered nose and tail give super press-a-bility and playfulness in all types of snow. Great for riders who like to balance creative trick selection with solid all-mountain freestyle performance.

FLEX
Flex: 6 (1 Soft - 10 Stiff)
SHAPE
QuickRip Technology – The goal with QuickRip Sidecut is to create a board that does two things: stay nimble and maneuverable at slow speeds, and maintain power and precision at high speed. This is achieved by integrating two off-set sidecuts that create one sidecut zone in the nose, one between the feet, and one in the tail. Where the center section meets the other two sections, Rome has created Mid-Board Contact Points.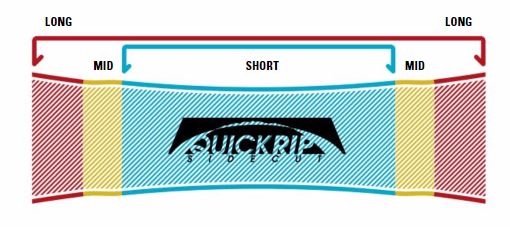 True Twin – If you cut the board in the dead middle, the nose piece and the tail piece will be identical in shape and flex. If you remove the graphic from a True Twin, there is no way to tell the nose from the tail. This creates a balanced feel and the freedom to ride switch.
CORE
TTT Core Matrix – 100% Wood is better than plastic -- wood just flexes and responds better.
LAMINATES
HotRods | Glass Single Barrel – A tube of glass adds a more dynamic poppy flex than flat glass fibers.
StraightBiax Laminate – 90 Degree fibers create a fun playful flex perfect for cruising, lapping park, or ripping bowls.
BASE
XTRD – Strong, fast, and easy to fix. Extruded base.
BINDING COMPATIBILITY
2 x 4 Inserts