The epitome of perfection, Rome Kashmir Snowboard brings all-mountain riding abilities to any woman-warrior of winter. Its true twin shape and flex pattern make pressing in the park incredibly comfortable and essential when it comes to swooping through a glade full of trees. The use of Contact Camber and FiveGnar Sidecuts provide plenty of pop and snap. The Rome Kashmir Snowboard is incredibly versatile for shreddy betty that wants a ride-everything board.
ROCKER TYPE
Contact Camber – 100% flat through the running length to give both pop and pressability.

FLEX
Response Rating – 7 (1 Soft - 10 Stiff)
SHAPE
True Twin – Rome's True Twin shapes are perfectly symmetrical. If you cut the board in the dead middle of the board, the nose piece and the tail piece will be identical in shape and flex. If you remove the graphic from a True Twin, there is no way to tell the nose from the tail. With their balanced feel and equality toward switch riding, this shape helps drive the personality of Rome's park boards and the more jump-oriented all-mountain freestyle boards.
QuickRip Technology
FiveGnar Sidecut – To add a lively, responseive feel to Rome's flat-camber boards, Rome designed a complimentary sidecut that features two different sidecut radii used in five distinct zones of the board. The zones under the front and back feet are the same, while the zones in the nose, tail and the middle of the board are all the same tighter radius sidecut. All zones are blended into each other to make one smooth arc that is not interrupted by "bumps." With a tighter radius in the nose, tail and mid section, the board engages more actively, feels tighter in the middle of a turn and finishes the turn with more pop.
CORE
Pop Core Matrix – The everyday balance of response and lightness, this go-to design is built primarily of responsive, strong wood, with two zones of a lighter wood species.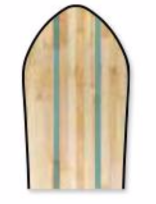 LAMINATES
HotRods: Bamboo Single Barrel – A single rod of bamboo in the centerline adds ollie pop while letting the rest of the board flex normally.
Straightbiax Carbon Laminate – Starting with the jump-and-rail personality of 90 degree woven carbon fibers, Rome adds longitudinal strips to increase ollie pop.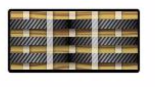 BASE
Impact Base – Rome's high-density design that stands up to the abuse of park and street snowboarding.
BINDING COMPATIBILITY
2 x 4 Inserts