So you want a board that can do it all, huh? Well take a good hard look at the Nitro T1 Snowboard because this bad boy is a fun-having revolutionary with Nitro s famed Zero Camber profile -- because traditional camber is less playful and reverse camber can feel sloppy. The T1 is an established park rider's dream, offering a mid-range flex, enough edgehold to carve confidently into big hits, yet still buttery enough to goof around on those natural side hits outside the park. A true twin shape combined with the heavy duty Sintered Speed Formula base allow this board to rip both in, and out of the park where it specializes in establishing a deep bag of tricks.
ROCKER TYPE
Zero Camber – If reverse camber is too loose and standard camber is too stiff, then Zero Camber is the solution you have been looking for. This highly versatile profile allows you to enjoy the benefits of both camber and reverse camber without sacrificing response for playfulness and vice-versa. Zero Camber is quickly becoming the profile of choice for park and urban riders worldwide.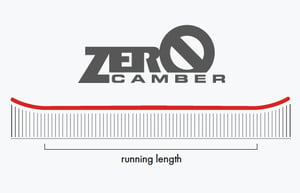 FLEX
Park: Tuned for Progression – Specifically tuned for park riding, this flex pattern is forgiving yet responsive; allowing you to take your riding to the next level on jumps and rails.
SHAPE
Twin
T1 Profile – Designed with the freestyle rider in mind, for the freestyle snowboarder!
Radial Sidecut – The simplest and most common of all sidecuts: One single radius makes this sidecut extremely versatile and predictable.
CORE
Powercore II: Enhanced Performance and Extra Strength – The Powercore II is a tip-to-tail poplar wood core with additional beech wood stringers for unrivaled strength, smooth response, and insane snap.
Whiplash Core Profile: Maximum Ollie Power – This profile features reduced thickness between the inserts with added meat outside your feet for maximum ollie power, while maintaining a perfect press flex.
LAMINATES
Bi-Lite Laminates: Forgiving and Strong – Nitro's rider-trusted Bi-Lite Laminates are engineered for unrivaled strength, powerful style, and refined board-feel.
BASE
Sintered Speed Formula HD Base – Utilizing a new base material compound, Nitro has been able to achieve higher abrasion resistance, increased wax absorption, and higher on-snow speeds. All in an ultra clear package for extra crisp graphics.
Die-Cut Base – Base color displayed may not be available. Base colors may vary.
EDGES
Railkiller Edge – Nitro's Railkiller Edge is your secret weapon for rails, rocks, and longevity! With its unique edge profile and an impact resistance of more than 200% compared to a standard edge, the Railkiller Edge is twice as thick and twice as strong. This proprietary construction can take on any rail challenge. Take a file to them or ride them hard and wear them down naturally, this chunk of steel has enough meat for years of abuse.