If you value the equilibrium between flex and support, or maybe just want a binding that's easy to tweak, look to the K2 Lien FS Snowboard Bindings. The Lien FS features a oft to medium flex rating and tunable Tripod™ chassis along with a canted footbed and a Tweakback™ highback that's super flexible for full extension on grabs. Plus, the tool-less straps are multi-point pivoting to fit perfectly with any brand boot. Whether you're surfing inbounds laps or floating natural hits in your secret backyard spot, the K2 Lien FS Snowboard Bindings are sure to be your go to setup.
FLEX
2 - 4 – Flex and mobility for freestyle tweaks and surf-style freedom.
BASEPLATE
Tunable Tripod™ Chassis – Designed for natural flex and feel, this anatomically correct chassis features three power transmission pads that align with your foot's natural geometry. Also included is an on-board power ramp and toe strap adjustability, so you can tune and tweak the fit to match your natural riding movements.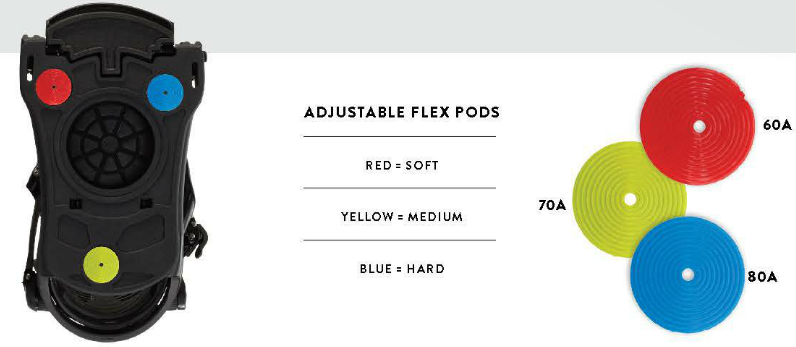 Harshmellow™ Shockpads – Harshmellow's vibration dampening properties are placed in the heel and toe of the binding to absorb chatter and suck up sudden impact from flat landings to tough terrain.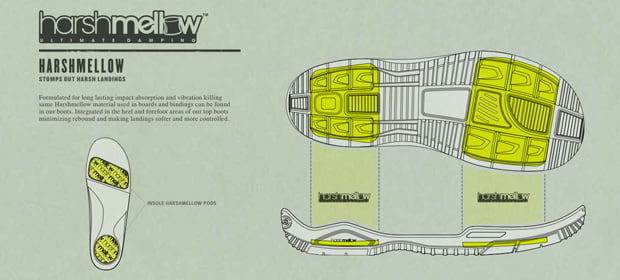 Canted Seamless EVA Footbed – Angled inward at 3 degrees for a natural leg stance during riding. Added support on the outside of foot provides improved control and better pop. The poly-carbonate tool-less Pop Top Disc Cover makes it easy to access the disc mount and screws while preventing snow-build up.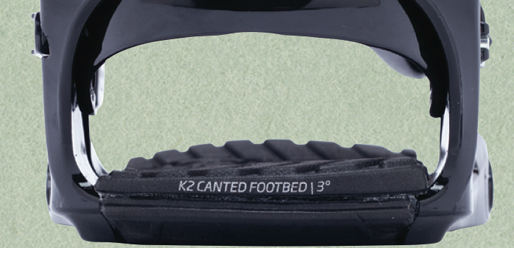 Power Ramp – Tool-less adjustment // Integrated with full seamless footbed
HIGHBACK
Tweakback™ FS – Designed for more flex and tweakabilitity while maintaining critical centerline heelside support, this urethane highback is packed with features. Comfort comes standard with a thermo-formed EVA calfpad and tool-less forward lean adjustment.
Airlock™ Technology – Forward lean adjustment with less weight.
STRAPS
Perfect Fit™ Toe Strap – Innovative hinged design fits any boot toe shape, holds well and sits in a lower profile configuration than any other toe strap before it. Tool-less length adjustment and centering completes this design for a customized fit and responsive connection.
Precision™ Ankle Strap – Minimalist design and low profile keep this strap in place and pressure dispersed. Features a harshmellow ratchet pod for no pressure points and tough PU laminates.
Cam Lock™ Center Adjusting – Tool-less and secure adjustment allows you to precisely center your straps with ease and speed.
BUCKLES
EZ-Feed Housing
Hella Radchet™ – Large release lever for super easy exit and resin composite construction for lightweight durability.