Beans are the magical fruit - they're loaded with energy! Just like the K2 Cool Bean Snowboard which has power for the powder. Snow hounds like you are okay with riding over some crud to find the best terrain. This is why the Cool Beans has K2 s All Terrain Baseline™ - because it makes riding over that crud easy! This snowboard has a short and wide shape to give it a surfy feel. The Cool Bean's AT Baseline™ has a flat section of its base where Tweekend™ technology comes into play. Tweekend™ lifts the nose of the snowboard up and out of the snow for ample floatation. It's no wonder why the K2 Cool Bean Snowboard is part of K2 s Enjoyer Collection because you'll be joy riding from here on out.
ROCKER TYPE
All Terrain Baseline™ – Designed for use anywhere on the mountain, K2's AT baseline allows for effortless turns in the hardest conditions. It also provides ample float in soft snow and crud. Designed as a directional baseline, AT has a medium rise through the tip and a lower rise in the tail. The perfect balanced baseline for a multi-purpose rider.

Tweekend™ – A revolutionary tweak to the ends of K2's industry leading Baseline technology. By extending the Baseline rocker all the way out to the ends of the board, an additional rideable surface is unlocked, giving you a bigger, more stable platform to press, float and land on.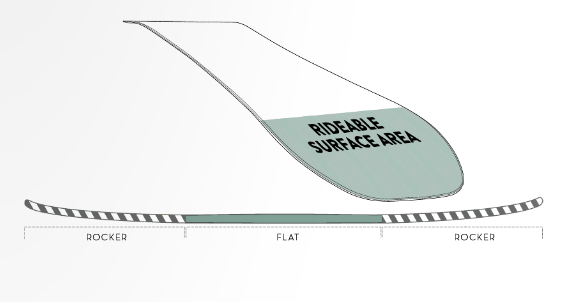 SHAPE
Tapered Directional
Enjoyer Series Shape – This board is part of K2's quiver of unique shapes - special boards for special conditions. The Cool Bean, Carve Air, WWW Enjoyer and Wildheart are new additions to this series.
CORE
WH3 Core – Using the same wood lay up as the W2 core, K2's WH3 adds two strips of Honeykomb™ material between the bindings and the rails. K2's Honeykomb™ cores use a urethane-skinned Honeykomb™ for bonding strength and durability.

LAMINATES
Biaxial – The classic structure laminate, biaxial glass provides smooth all-purpose performance.
BASE
4000 Sintered – This is the fastest base material available, with exceptional durability and wax retention.
Die-Cut Base – Base color displayed may not be available. Base colors may vary.
BINDING COMPATIBILITY
2 x 4 Insert Pattern