Control your touchscreen on your phone or music player without ever exposing your fingers to the cold with the Burton touchscreen Liner Glove. Touch N' Go places a magical membrane on the tip of the index finger and thumb to allow you to manipulate your phone or music player with pinpoint accuracy. DRYRIDE Ultrawick™ stretch jersey fabric keeps you warm, dry, and flexible for fancy finger work.
SHELL MATERIAL
DRYRIDE Ultrawick™ silkweight fabric
FIT
Ergonomic pre-curved fit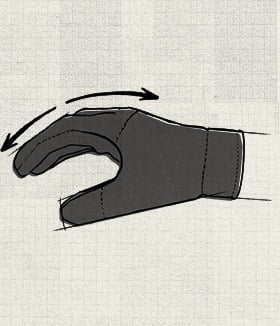 FEATURES
Quick-drying and highly breathable
Touch N' Go Fingertips – Optimized for use with touchscreen phones and music players.
TEMPERATURE RANGE
Warmer Conditions – Lightweight and low-profile, perfect for spring/summer riding and mellow climates.