The Bataleon Disaster Snowboard was raised in the streets and feels right at home in the park. It was designed with a wide waist for stability on jibs and upturned edges to abolish the risk of catching an edge in the landing. Soft in flex, but with tip-to-tail beech wood stringers for pop on the takeoff, the Bataleon Disaster Snowboard is the perfect board for the artsy jibber who pushes the envelope
The Disaster crushes it in both the park and the streets. Its wide mid-section is stable on jibs and 3BT base uplift in the tips makes it nearly impossible to catch your edge. The softer flex is easy to twist into an array of jib tricks while the added tip to tail beech-wood stringers help pop proper ollies and work like suspension for those flat landings
__________________________________________________
ROCKER TYPE
Jib 3BT – This 3BT flavor is fine tuned for jibbing and park riding. Jib 3BT has the widest centerbase. The uplift angle is low and begins under the bindings to deliver a loose, buttery and forgiving feel without sacrificing control. The wide centerbase offers a nice and stable area to press, load up ollies and put down landings. Perfect for urban, jib and park driven riders.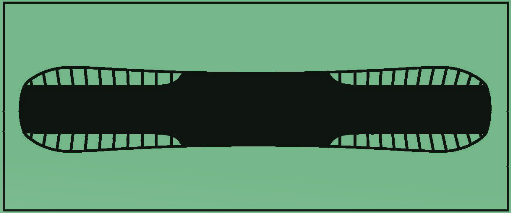 Low Jib Camber
CORE
Core Core – Full poplar with beech hardwood laid tip to tail along the inserts to enhance the board's jib, jump and freestyle riding attributes. The added beech hardwood strengthens the board's backbone and puts out potent pop while still offering a comfortable lateral flex.
LAMINATES
BiAx – Bataleon's traditional and time-tested two-way weave of fiberglass, made light, strong and responsive.
SIDEWALLS
Solid Walls – The go-to material for flex, weight savings, and durability along the edge.
BASE
Super Slick X – Not a basic extruded base. It has the highest molecular content available for an extruded base. That mean's it's super slick, durable and maintenance-free.
TOPSHEET
PLT Topsheet – This finishing method means applying the topsheet after the board is pressed. This gives the board an ultra-slick finished look, and because the topsheet is pre-pressed it allows Bataleon to fine-tune the board's final flex pattern.
SPECS :
Terrain: Freestyle, All-Mountain
Ability Level: Intermediate-Advanced
Rocker Type: Rocker

Shape: True Twin
Flex Rating: Soft

Binding Mount Pattern: 2x4
Core/Laminates: Composite, Wood
Athletes: Jaeger Bailey
Warranty: 2 Years